What Is a School Crossing Guard and How to Become One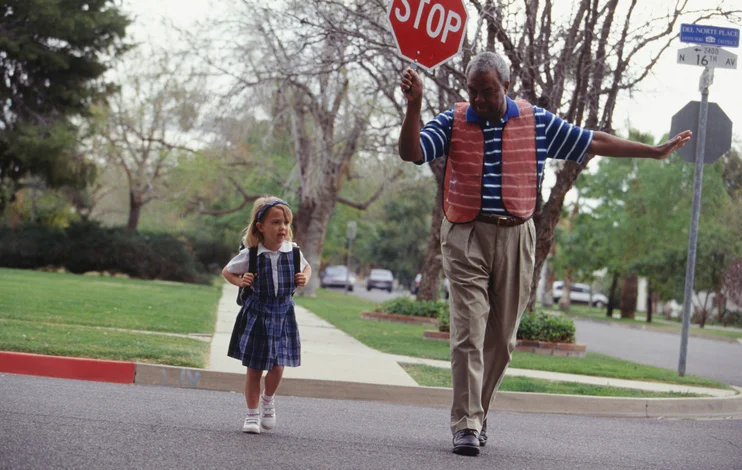 ---
What Does a School Crossing Guard Do?
School crossing guards help children cross the street in safety. A school crossing guard often wears a reflective vest and may carry a stop sign to direct traffic around an intersection. They may have to stop drivers from entering the crosswalk to ensure that children have enough room to cross the street safely. School crossing guards typically perform their duties each morning and afternoon that school is in session, and at lunchtime for schools with an open campus.
How to Become a School Crossing Guard
School crossing guards help school children cross streets and navigate traffic before and after school. There are no education requirements to become a school crossing guard. Qualifications include knowing how to direct drivers and traffic and how to keep everyone safe. Experience working with kids and adults is a plus. You must be able to read and understand street sign directions and stay outside in all kinds of weather conditions. Contact local schools and district offices to find school crossing guard positions.
School Crossing Guard Job Description Sample
With this School Crossing Guard job description sample, you can get a good idea of what employers are looking for when hiring for this position. Remember, every employer is different and each will have unique qualifications when they hire for a School Crossing Guard role.
Job Summary
We are looking for a dependable person to fill a School Crossing Guard position. Your job is to ensure the safety of children and other pedestrians as they cross the street before and after school. While wearing your safety vest, you will check for oncoming traffic, step into the road, and direct vehicles to come to a stop before instructing people to cross. Although this job requires minimal hours, you must be comfortable working outdoors in various types of weather. There will be a qualifying exam for all interested applicants. You must be able to pass a background and drug test for this position.
Duties and Responsibilities
Assist children, parents, and other pedestrians as they cross the street before and after school
Manage the flow of traffic
Report suspicious activity
Requirements and Qualifications
High school diploma or GED certificate
Availability during the school week/hours
Comfortable working outdoors in various weather conditions
Communication skills