What Is a Journeyman Electrician and How to Become One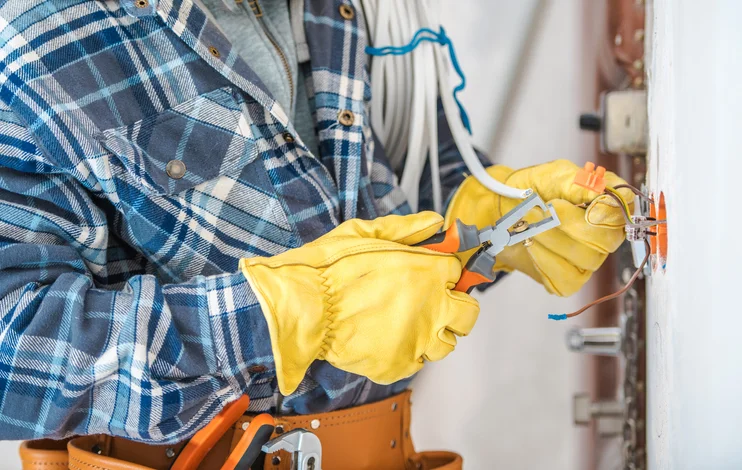 ---
What Is a Journeyman Electrician Job?
A journeyman electrician installs, maintains, and performs electrical work for commercial and residential projects. Journeyman electricians are trained to install electrical systems and wiring and to ensure that all systems work properly. They perform rigorous work to make sure installations are safe and are up to code. They find source problems and repair broken electrical systems. A job may involve installing new light fixtures or testing a malfunctioning circuit breaker.
What Education Is Required for Journeyman Electrician Jobs?
It takes a lot of experience to become a journeyman electrician. A candidate can start as an apprentice to a master electrician and learn the trade. It usually takes four years of training to qualify for a journeyman electrician license. Some community colleges and trade schools will offer programs for those who prefer a classroom setting for training. Schools can arrange apprenticeships and provide documentation for licensing. Either way, the most important part of a journeyman electrician education is the practical on-the-job experience.
What Is the Difference Between Journeyman and Master Electrician Jobs?
A master electrician is someone who has moved past the apprentice and journeyman stages of their career. They train journeyman electricians and are in charge of examining blueprints, designing electrical plans, and overseeing big picture tasks. A journeyman electrician will not have the same experience or licenses as a master electrician. Journeymen may be able to work independently, but do not have complete autonomy. For example, it may be against code laws and regulations in certain states for a journeyman to issue permits or plan the design of an entire system.
Journeyman Electrician Job Description Sample
With this Journeyman Electrician job description sample, you can get a good idea of what employers are looking for when hiring for this position. Remember, every employer is different and each will have unique qualifications when they hire for a Journeyman Electrician role.
Job Summary
We have an immediate opening for an experienced and reliable Journeyman Electrician. You will join our team of highly-skilled electricians to install, repair, and maintain a variety of electrical systems, including electrical panels, lighting, motor controls, and conveyor systems. All of our staff are familiar with installing power supply wiring and troubleshooting both commercial and residential types of electrical components. Our ideal candidate has at least five years of professional experience, a current electrician's license, and a flexible schedule.
Duties and Responsibilities
Respond to service calls quickly and within the expected timeframe
Discuss the customer's request for repairs or installation and provide estimates for cost and timeline
Follow specifications on blueprints or technical drawings for installations
Perform routine maintenance on various systems as requested
Conduct all repairs and installations according to code
Notify client immediately if the plan needs to be adjusted due to unforeseen circumstances
Requirements and Qualifications
High school diploma or equivalent
Current journeyman electrician license
5+ years of experience as an electrician; extensive experience in both commercial and residential work a plus
Able to read blueprints, technical drawings, and diagrams and follow specifications
Solid working knowledge of commercial and residential electrical systems
Valid driver's license
Must have your own set of tools and safety gear
Must pass a background check and drug screening
Able to work independently
Excellent customer service skills