What Is a Graphic Design Intern and How to Become One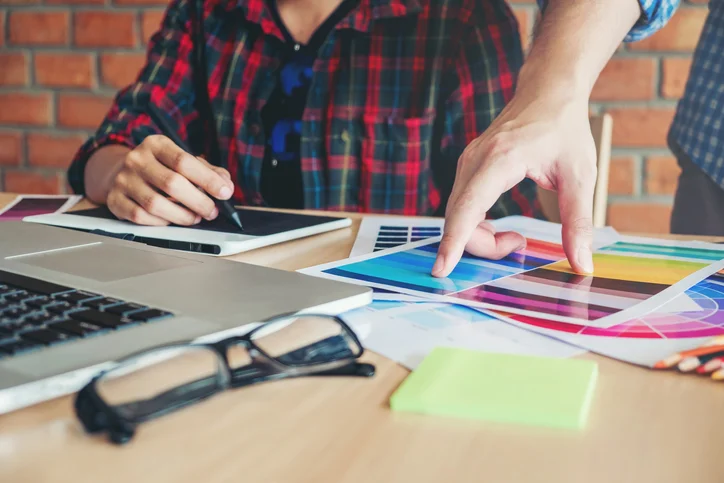 ---
What Does a Graphic Design Intern Do?
As a graphic design intern, you can learn about the career in graphic design that you are aspiring to in a hands-on environment. You may be asked to participate in design team meetings, help with design projects and social media, conduct client research, and collaborate with experienced designers. Though interns are paid little to nothing, the experience they gain in their field can be invaluable.
How Do You Become a Graphic Design Intern?
To become a graphic design intern, you will likely need to be enrolled in a design school or university or have recently graduated from one. Design interns are new to the career and possess a lot of knowledge but little experience. The process of getting an internship is a lot like getting a job—you will need to apply, submit a resume and referrals, and provide the required information, including work samples. Internships at top firms are highly competitive, so apply early.
What Are Graphic Design Intern Career Paths?
Graphic design interns are students or recent graduates just starting their career path who are seeking to gain hands-on experience by working short-term positions for little to no pay. Once you have been accepted into an internship, you may have an opportunity to parlay that position into a permanent one as an entry-level graphic designer. Firms will sometime hire exceptional interns, so this is a great time to prove yourself and show that you are a quick learner who is passionate about this career.
What to Expect at a Graphic Design Internship
The right graphic design internship can be an incredible opportunity to gain valuable skills and experience. You should choose your internship wisely and be sure it will provide you opportunities to work side by side with experienced designers, not just run errands. A good internship will provide you opportunities to collaborate with experienced professionals, gain insight into marketing and client research, try some projects on your own, and get valuable feedback.
How to Get a Graphic Design Job Without Experience
You can get a job in graphic design without any experience beyond your work in design school or university. A great way to get that first entry-level position is through an internship. Summer internships or post-graduation internships can provide invaluable experience and help you gain the hands-on experience employers are seeking. In an internship, you will work collaboratively with experienced designers and hone your skills. Your internship may even turn into a permanent position if your firm is hiring.
Graphic Design Intern Job Description Sample
With this Graphic Design Intern job description sample, you can get a good idea of what employers are looking for when hiring for this position. Remember, every employer is different and each will have unique qualifications when they hire for a Graphic Design Intern role.
Job Summary
Our firm is looking for an enthusiastic individual to join us as a Graphic Design Intern. Applicants must be current students in a 4-year degree program focused on graphic design or illustration. In this role, you will help experienced designers develop and execute concepts. This is a great opportunity for a talented student to gain professional experience, especially if you are able to take constructive criticism. While this is an entry-level role, we expect applicants to have a working knowledge of the Adobe Creative Suite. You must submit a portfolio of work to be considered.
Duties and Responsibilities
Conduct client research
Help develop and execute design concepts
Complete pre-press work
Assist with administrative tasks as necessary
Requirements and Qualifications
Current enrollment in a 4-year graphic design or illustration degree program.
Working knowledge of the Adobe Creative Suite, including Photoshop, InDesign, and Illustrator
Collaboration skills
An eye for detail