What Is an Aviation Maintenance Technician and How to Become One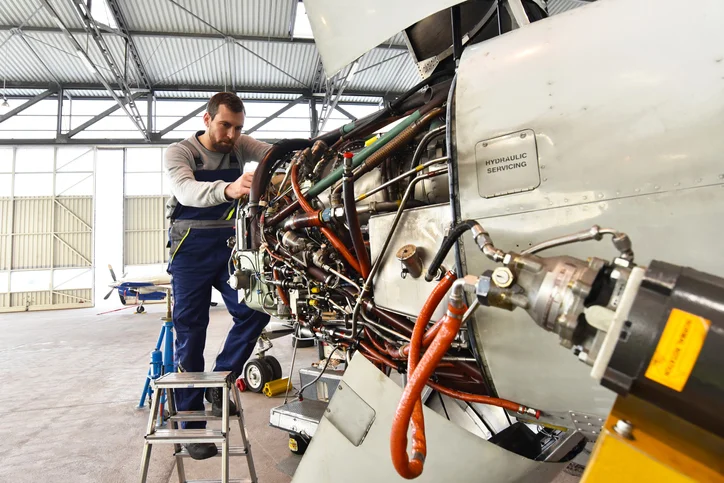 ---
What Does an Aviation Maintenance Technician Do?
An aviation maintenance technician is a mechanic who handles the day-to-day operations of aircraft systems and equipment. Their duties involve troubleshooting and making repairs. Inspection and testing are routine tasks to ensure compliance with FAA regulations and safety standards. Aviation maintenance technicians often work in airport support, either in a hanger or on the airfield. Technicians need the skills to operate power equipment, usually on scaffolds and ladders, and be able to follow safety rules.
How to Become an Aviation Maintenance Technician
Prospective Aviation Maintenance Technicians must be excellent mechanics and physically fit. A Federal Aviation Administration (FAA) certification is mandatory to work in this field. Specifically, you must hold an FAA Airframe and Power Plant License. To obtain this credential, you must have a high school diploma (or GED) and complete a combination of technical education through an FAA-certified Aviation Maintenance Technician School (AMTS) and on-the-job training. You can achieve on-the-job credits through military experience or mechanical work at an airline. Following the experiential qualifications, you'll need to pass a written, oral, and practical test. Once these requirements are met, Aviation Maintenance Technicians should continue developing their skills working with an aircraft. Successful candidates have a proven record of safety and attention to detail. You must also be able to perform some heavy lifting and climbing.
Is Aviation Maintenance Technician a Good Career?
The United States Bureau of Labor Statistics predicts an overall positive outlook for careers in the aviation industry. Solid growth is expected, especially for mechanic and maintenance roles. The only educational qualifications for a career as an aviation maintenance technician is an associate degree from a school approved by the Federal Aviation Administration (FAA) or on-the-job training. You need certification by FAA to work on any aircraft as part of your qualifications, and this job is often physically demanding. Additional certifications can help to improve job prospects and advance in the field.