What Is an Apprentice Carpenter and How to Become One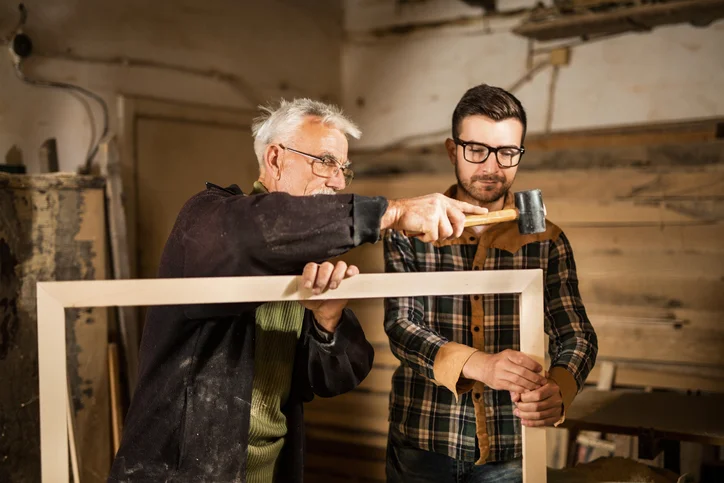 ---
What Does an Apprentice Carpenter Do?
An Apprentice Carpenter receives on-the-job training from an experienced, licensed carpenter. They learn basic carpentry skills such as how to read a blueprint, identify the best tools for a job, measure and cut wood, and assemble parts to create a finished product. During the apprenticeship, the job duties of an Apprentice Carpenter include cleaning up debris from construction areas, retrieving tools, and refilling work pouches for fully qualified carpenters. As they gain experience and familiarity with the tools and carpentry skills, an apprentice carpenter performs tasks that require more skill and responsibility.
How to Become an Apprentice Carpenter
To become an Apprentice Carpenter, you need a high school diploma or equivalent. Some choose to complete a carpentry program at a vocational school to learn the basic skills required for the trade. Post-secondary education is not required, but having advanced skills may make you more attractive to employers that offer carpentry apprenticeships. Research apprenticeships in your area by construction companies or local unions and market your skills. As an apprentice, you will receive on-the-job training and learn basic carpentry and technical skills, building code requirements, and how to read blueprints. Most apprenticeship programs require completing a certain number of hours of specialized training and over 2,000 hours of paid training to advance.
What Is the Career Path for an Apprentice Carpenter?
Apprentice Carpenter must earn a high school diploma or equivalent to be eligible for apprenticeships. You also need to have good math skills, familiarity with hand and power tools, and physical stamina. Some apply for apprenticeships right out of high school, while others complete a carpentry certificate program at a vocational school to learn basic industry techniques before entering an apprenticeship program. Carpentry apprenticeships are available from some carpentry organizations and various carpenter unions. During your program, you complete both classroom instruction and on-the-job training to learn specific skills such as how to read a blueprint, measure and cut wood, and assemble parts for different types of jobs. After three to four years, you may take a state licensing exam and become a fully qualified carpenter.
Apprentice Carpenter Job Description Sample
With this Apprentice Carpenter job description sample, you can get a good idea of what employers are looking for when hiring for this position. Remember, every employer is different and each will have unique qualifications when they hire for a Apprentice Carpenter role.
Job Summary
We are looking for an aspiring carpenter to join our team as an Apprentice Carpenter. We furnish you with the necessary technical skills to launch a rewarding career. While you do not need prior experience, you must have some training with power and hand tools. You will work under the supervision of a journeyman carpenter, assisting them in their duties while you train and gain a better understanding of your trade. An apprenticeship with our organization entails several years of on-the-job training and classroom instruction before taking the state licensing exam. Experience in residential construction is beneficial, especially in areas like siding or drywall installation. You need excellent communication skills to coordinate with other workers, such as electricians or construction managers.
Duties and Responsibilities
Assist a journeyman carpenter with construction and remodeling projects
Help build wooden structures
Attend courses on carpentry
Learn and practice essential carpentry skills on the job
Maintain a safe work environment
Set up and maintain tools for your supervising carpenter
Requirements and Qualifications
High school diploma or GED certificate
Strong math skills
Familiarity with common power and hand tools
Experience in construction
Physical strength and stamina