What Is a Neurologist and How to Become One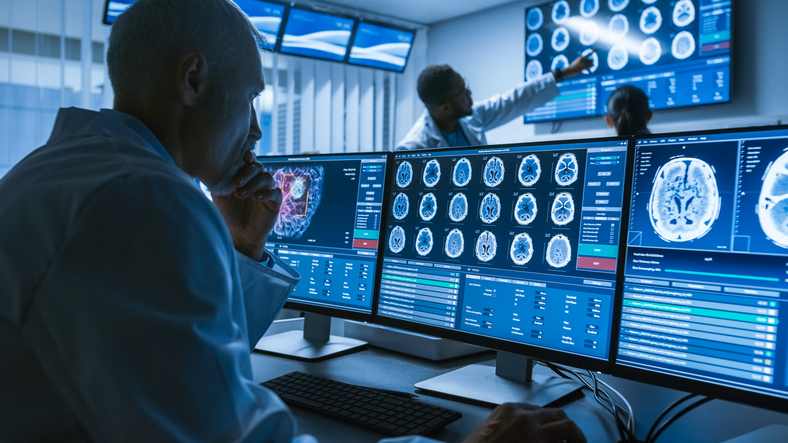 ---
What Do Neurologists Do?
A neurologist is a doctor who specializes in the care of the central and peripheral nervous systems. Neurologists assist patients with neurological examinations, diagnostics, treatment and referrals and may work in hospitals, clinics, or private practices.On a day-to-day basis, a neurologist has many important job duties. First, they examine patients and investigate neurological disorders and conditions. Next, they give a prognosis and research treatment options. It is the job of a neurologist to communicate treatment methods and possible side effects to patients and their families. Throughout treatment, a neurologist will order tests, interpret results, amend treatments, and thoroughly document patient progress.
What Is a Neurologist vs. a Neurosurgeon?
Neurologists and neurosurgeons are both experts in the nervous system, however, their job descriptions are vastly different. Neurologists examine and diagnose patients with neurological disorders. They create treatment plans and walk patients and their families through next steps and possible side effects. Neurosurgeons, on the other hand, deal solely with neurological surgical procedures. A neurologist meets with patients prior to surgery and explains the procedure and after-care requirements for recovery. They will then perform all predetermined surgical procedures in the effort to cure the patient of their neurological disorder.
What Are Different Types of Neurologists?
There are a number of neurology subspecialties. A neurologist may wish to pursue a career in clinical neurophysiology, focusing on patient diagnostics through electronic testing. A neurologist may also specialize in vascular neurology, which involves the diagnosis and treatment of circulatory disorders in the brain. Patients with cerebral palsy, Down syndrome, and other life-long neurological disorders rely on neurodevelopmental and neuromuscular neurologists for long-term care. A neurologist may also focus on pain management or palliative care, assisting with chronic pain and patient mobility.
How to Become a Neurologist
In order to become a neurologist, a candidate must complete medical school and earn their medical degree specializing in neurology. State and federal licensing are required as well. In some cases, an aspiring neurologist may be required to obtain an Advanced Cardiovascular Life Support (ACLS) certification, intended to prepare the candidate for sudden, severe changes in patient condition.
Neurologist Job Description Sample
With this Neurologist job description sample, you can get a good idea of what employers are looking for when hiring for this position. Remember though, every employer is different and each will have unique qualifications when they hire for their Neurologist position.
Job Summary
We are seeking a detail-oriented, thorough, and organized neurologist to join our growing team. In this position, you will diagnose and treat patients with brain and central nervous system disorders and diseases. You will also perform tests, diagnose patients, provide treatment plans and options, and work with patients' physicians and surgeons to treat neurological issues.
Duties and Responsibilities
Evaluate patient through questions, examinations, memory tests, or movement activities
Perform diagnostic tests, imaging tests, EEGs, and biopsies
Analyze patient test results, blood work, and spinal fluid
Set patient goals and discuss a treatment plan
Establish timelines, tasks, and medical needs of the patient
Develop treatment plans for medications or therapy to help the patient reach their goal
Prescribe medications and monitor patient intake
Recommend surgeons or other further treatments
Consult neurosurgeon and other surgeons on patient procedures
Monitor patient progress post-surgery
Document patient records and progress including symptoms, medications, and treatments
Provide patient with tools and methods for recovery and better quality of life
Educate patient, patient's family, significant others, and relevant parties of patient progress, treatment, and future goals
Conduct research to better serve patients
Requirements and Qualifications
Bachelor's degree in biology, pre-med, physical sciences, or related field
Doctor of Medicine (M.D.) degree; clinical residency, followed by a fellowship in a specialized area from a medical school accredited by the Liaison Committee on Medical Education (LCME)
Successful completion of the U.S. Medical Licensing Examination (USMLE)
Certification by the American Board of Psychiatry and Neurology (ABPN) and local state requirements must be met
Three-year residency in neurology
Participation in further medical education and/or professional organization memberships are preferred
Proficient computer skills, including Microsoft Office Suite
Strong desire to help people and improve their daily lives
Compassionate and sensitive to patients' needs and concerns
Able to multitask, prioritize, and manage time efficiently
Excellent verbal and written communication skills
Exhibits patience and understanding
Great interpersonal relations, communications, and demeanor