What Is a Data Center Engineer and How to Become One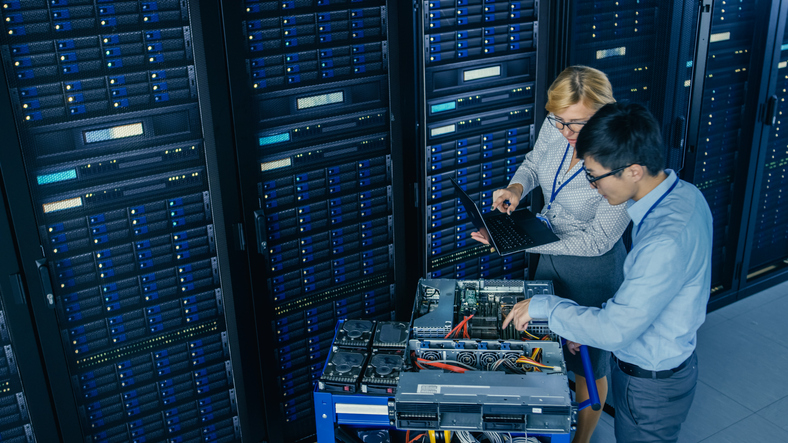 ---
What Is a Data Center Engineer?
A data center engineer's duties are to design, implement, and monitor information technology systems at a data center. A data center engineer must be familiar with a variety of IT hardware, such as servers, cables, power systems, and cooling equipment, needed to maintain the physical safety of an IT facility, which includes fire safety. Their job is to set up the infrastructure needed to connect servers and hard drives together, and be familiar with the capacity of the technology. After setting up IT systems, they are responsible for system monitoring, maintenance, and troubleshooting.
How to Become a Data Center Engineer
Most people begin their career as a data center engineer with a bachelor's degree in computer science, IT systems, electrical engineering, or a related field. There are also several certification programs that may improve job prospects. In addition to educational qualifications, experience working with senior engineers to design and implement new IT systems is useful. Some skills that are necessary for the job include analytical thinking, strong attention to detail, time management, and the ability to work as part of a team. Some data center engineers begin by working at an IT center or facility providing routine maintenance before they become engineers.
Data Center Engineer Job Description Sample
With this Data Center Engineer job description sample, you can get a good idea of what employers are looking for when hiring for this position. Remember, every employer is different and each will have unique qualifications when they hire for a Data Center Engineer role.
Job Summary
Our company is looking for a Data Center Engineer to help us build and manage our information systems. As part of our data team, you will assist with wiring and racking. In addition, you will perform quality assurance tests and troubleshoot hardware issues to help us improve and maintain our warehouses. Our ideal candidate has experience in capacity planning and can ensure that our systems have the power to meet strategic business needs with few or no reliability issues. We strongly prefer candidates with a bachelor's degree in computer science, and it is essential that you have a firm grasp of network storage principles and architecture.
Duties and Responsibilities
Design and manage information/network systems
Setup and operate common Linux and Windows OS servers
Perform quality assurance testing
Identify and resolve recurring issues
Identify reliability risks
Schedule and track hardware maintenance
Update port maps and rack layouts
Create operational procedures
Provide technical support
Requirements and Qualifications
Bachelor's degree in information technology (IT), computer science, or electrical engineering
Experience working with IT systems
Linux and Windows OS system administration experience
Network and power capacity planning experience
A solid understanding of network and data cabling
Analytical skills
Troubleshooting skills